© Elise Eeraerts Roberto Aparicio Ronda
Expo
Elise Eeraerts & Roberto Aparicio Ronda
LIKE SNAKES, THE ROOTS OF TREES, COIL THEMSELVES FROM ROCK AND SAND
In their solo exhibition in Studio STUK Manhattan, artist duo Elise Eeraerts and Roberto Aparicio Ronda immerse you in the world of swamps and wetlands, where fables and facts intersect.
And, like snakes, the roots of trees
Coil themselves from rock and sand,
Stretching many a wondrous band
- fragment from Goethe's Faust, when a wandering light (Ignis Fatuus) emerges in the story
Wandering lights and bog bodies, the swamp (bog) is often the symbolic setting for sinister events in both historical and contemporary stories; a place of mischief and mystery. At the same time, wetlands bustle with life and harbor a diverse ecosystem that plays an important role in the context of climate change as carbon sinks and storm buffers.
For their exhibition at STUK, Eeraerts and Aparicio Ronda developed a landscape of spatial and audiovisual elements inspired by the Kirkpatrick Marsh (MD, USA). In this marsh, scientists from the Smithsonian Environmental Research Center (SERC) are studying how plant and animal species respond to fluctuations in CO2, temperature, nitrogen (N) and sea level rise. Global climate changes are simulated there in anticipation of a new reality.
Awe-inspiring images of abundant fauna and flora in the wetlands cross with the excitement of fables and anxieties of science predicament in this thought-provoking installation that gets under your skin.


The exhibition is a co-production of STUK, i.c.w. Cas-co and with the support of the City of Leuven. The research was supported by the Smithsonian Institution in Washington DC through an Artist Research Fellowship from the Smithsonian Environmental Research Center (SERC) (2019 cohort).
From 20 to 24 April the expo is part of Warm Alarm, an open festival of makers and thinkers who experiment with alternatives and sustainable strategies for the future. Discover the full programme here.

ELISE EERAERTS & ROBERTO APARICIO RONDA
(1986, Mechelen, BE)
(1981, Burgos, SP)
Since 2012, Elise Eeraerts & Roberto Aparicio Ronda have been developing a multidisciplinary practice focusing mainly on the relationship between art and architecture. Their projects substantialize in natural settings or urban public space, where site-specificity, history and material transformations are the subject of their research.
As the most primitive material, earth occupies an important central role within their practice: from explorations of land and excavations therein, to the appropriation of various types of soil and its processing into objects and spatial installations. In their recent work, Eeraerts and Aparicio Ronda examine the role of land and landscape from a climate science perspective. In a thought-provoking, often visceral way, they allow current conventions from the anthropocene to collide with ideas and traditions whereby humans have and continue to appropriate nature.
Elise Eeraerts studied visual art at LUCA School of Arts (Brussel), at the Institute fur Raumexperimente, Klasse Olafur Eliasson, UdK (Berlin) and completed an internship at Studio Carsten Nicolai. Her art practice received multiple grants and awards, and has been exhibited internationally. Roberto Aparicio Ronda studied architecture at E.T.S. Arquitectura (Valladolid) and visual arts at Universidad del País Vasco/​Euskal Herriko Unibertsitatea (Bilbao). He worked as an architect for various international offices, such as OMA, office for metropolitan architecture, Rotterdam (NL) and Kengo Kuma and Associates, Tokyo (JP). Since 2021, Eeraerts and Aparicio Ronda reside at the Cas-Co studio's in Leuven.
Wed 22 Mar 2023 18:00 - Wed 17 May 2023 22:00
Location
Manhattan
Kolonel Begaultlaan 21
3012 Leuven
Price
FREE, no reservation required
Extra info
OPENING, ARTIST TALK & RECEPTION
WE 22 MAR — 18:00
In the presence of the artists
FREE, reservation required
OPENING HOURS EXHIBITION
The opening hours are linked to other activities in Studio STUK Manhattan. You'll find a day-by-day overview below.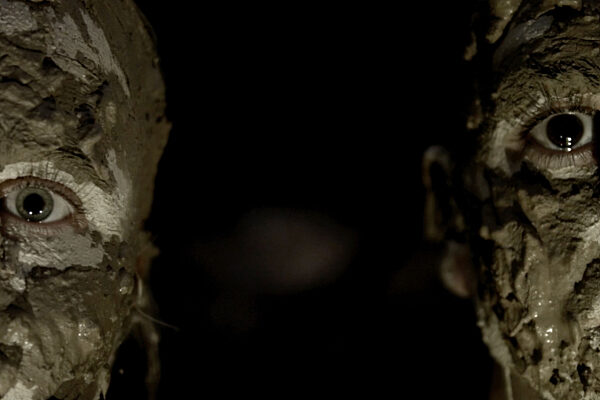 Artist in residence
From 6 March onwards, Elise Eeraerts and Roberto Aparicio Ronda prepare their new exhibition in Studio STUK Manhattan, titled 'like snakes, the roots of trees, coil themselves from rock and sand'.
More info